G&M Print's Services
Letterpress Printing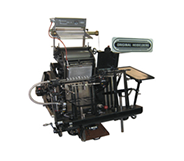 The oldest method and still in use today. This involves the use of a raised image
which is inked and then the paper is placed directly onto the printing plate under extreme pressure to create the print. The printing plate has to be created as a reverse/mirrored image so to print correctly. This process was widely used up to
the mid 1980`s in Ireland.
Lithographic Printing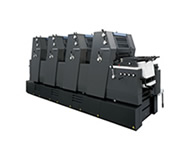 Taking over from Letterpress in the mid 1970`s was Lithography. This process
brought speed and higher quality printing to the world. With this process the image
and non-image are on the same flat printing plate. The image areas are processed
to accept ink and repel water. The non-inage areas are processed to accept water
and reject the greasy ink. So by wetting the plate and then inking it, the image area
is able to transfer the ink to a blanket cylinder and then from there to the paper (the offset principle). The printing plate never comes into contact with the paper.
Digital Printing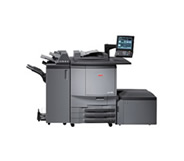 In the late part of the 1980`s printing was in the process of changing dramatically. Digital machines were beginning to be used to produce printing with little or no
waste sheets unlike letterpress or lithography. No longer would the printer get ink
on his hands as this was computer age printing. This method is used for short runs
of less than 1000 or for items that need to be individually personalised with text
and/or images. Digital printing requires less set-up than other methods but does
not gain from economies of scale. Digital printing uses a dry ink process where the
ink does not permeate the paper unlike wet ink. The dry ink is held in place by
applying a layer of fuser oil and a heat process.
Thermograpic Printing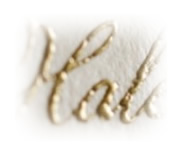 This process only possible from letterpress and lithographic printing involves the
wet inked sheets being covered by a powder. The powder sticks to the wet ink and
the sheet is then placed into a heated chamber which causes the powder in the ink
to raise giving a unique print with added gloss and 3d effect. Die cutting the finished product is then the best way to finish your job as you don't want to add any pressure
to the raised print. Different powder grades are available for producing various text or images. Special finishes can also be added such as glitter, pearl effects etc.
Wide Format Printing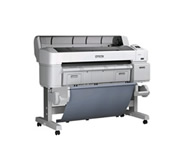 This process uses inkjet printing machines that can print widths up to 44" and virtually any length. Large format printing is usually used to produce short run posters, banners and point of sale material and the end results can be lightfast and permanent.

At G & M Print all the above process are available so why not contact us to discuss which process suits your requirements best.